Help educate voters in your area!
Over the next few weeks, Americans will be casting their votes all across America – and you can help make sure that they have the facts BEFORE they select their candidate.
We have surveyed the nominees for United States President and United States Senate on the issues that are important to conservatives, but now we need your help to get this information into the hands of voters.
Find your voter guides in the list below, then be sure to take spread the word using Facebook, Twitter and Christian radio, as well as utilizing the links to mass copying solutions provided.
Please see our letter to pastors regarding the placement of our voter guides in churches.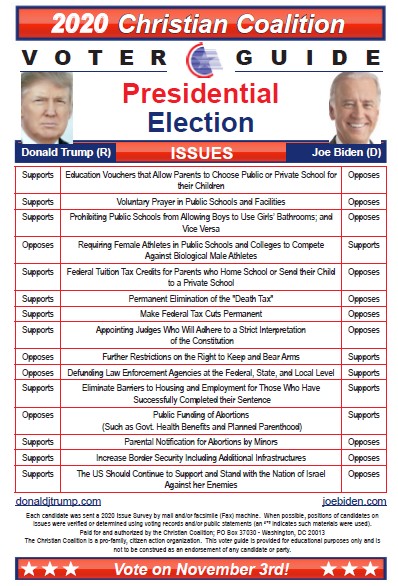 Help promote Voter Guides!
In order for 2020 Christian Coalition Voter Guides to have an impact, we need your help. Make copies and distribute them to friends and family members, in churches and Christian bookstores, businesses and Christian schools throughout your community.
Download Voter Guides
You will need Adobe Reader installed on your computer to download and view or print Voter Guides.
Adobe Reader can be downloaded here: https://get.adobe.com/reader/.
FedEx Office Mass Printing Solution
If you need to make mass copies, FedEx Office offers a very simple, web-based solution.
Upon downloading the Voter Guide .PDF file to your computer, you can upload it to the FedEx Office Print Online website, and have the desired number of copies printed to a FedEx Office location near you… ready for pick-up at your convenience!
Voter Guides
Find the appropriate voter guide for your area by scrolling down the list and clicking the link below.
Presidential Voter Guide
President & Senate Race Voter Guides